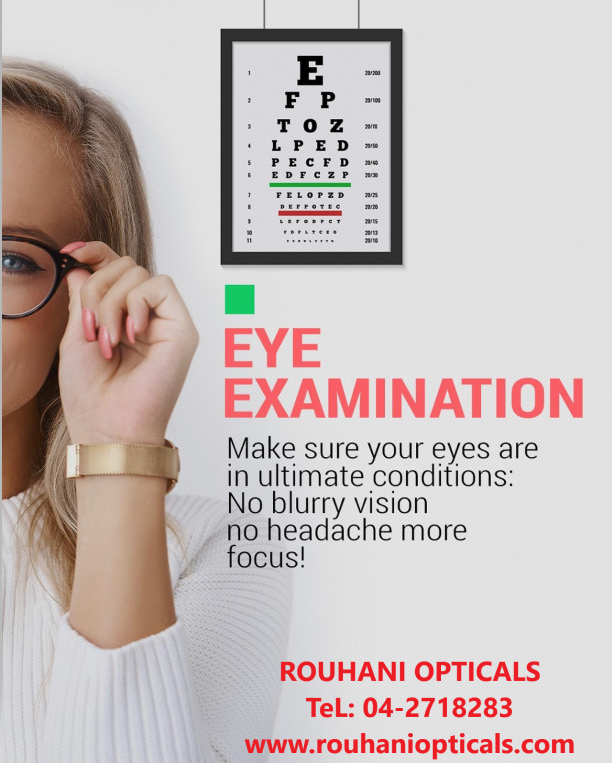 Welcome to Rouhani Opticals: Eye Exams, Eyewear, Contact Lenses & More...
Rouhani Opticals, a family owned and operated business was established in Dubai, U.A.E in 1963. For more than 60 years, people like you, right in our neighborhood have been the focus of everything Rouhani Opticals does. We go above and beyond to show how much we care: from educating you about your eyes and advanced care options to helping you find the perfect designer frames and talking straight about prices.
We are not just your eye care experts, we are your neighbors, too. So always count on clear answers and personal attention. Our commitment will still be going strong long after you leave with your new pair of glasses or updated lenses.
We love to see you! Remember to come in and have your glasses professionally adjusted and cleaned free of charge, for as long as you own your eyeglasses.
Our Vision

Our passion for delivering genuine eye care began in 1963 with Dr. Rouhani. His vision was as effective as it was simple:
The convenience and expert guidance of an eye care professional
On-site prescription eyeglass fulfillment
The biggest selection of designer Frames, Snglasses, Safety Frames and Contact Lenses in town
Today Rouhani Opticals is synonymous with caring for you and your eyes. Rouhani Opticals offers state-of-the-art technology wrapped in a level of personal attention that is second-to-none. It is how we stay true to our founder's vision of genuine eye care, with a reputation for service and quality.
Invested in your eyes and our community
We understand that genuine eye care is about caring for the people behind the eyes. This is why we ensure access to the highest quality eye care and corrective eye wear for everyone. We know the importance of an annual eye exam is more than just ensuring you see clearly, especially for those with an un diagnosed vision issue. We pride ourselves in being a leader in the industry for giving back to the community and by making sure that no ones eye care needs go unattended because of financial constraints. Visit us today and let us demonstrate to you our commitment!

60 years of Service & Commitment to eye care needs in Dubai & beyond

Letters of appreciation from U.A.E Ministry of Education
Letters of appreciation from Government Hospitals in Dubai

DHA Licensed Optometrists and Contact Lens Specialists
Advanced Vision Testing Equipment & Ophthalmic Lab
Quality Frames, Sunglasses and Safety Glasses
Prescription and Colour Contact Lenses
Prescription Lenses Indoor/Outdoor, & Computer Use
All products are guaranteed and suite every budget
Authorized by RTA for driving License Eye Testing
Convenient hours and location
24/7 Online store with free delivery in U.A.E.
Omar Bin Al Khattab Road
Deira, Dubai
United Arab Emirates

Work Hours:
Sat - Fri 9:00 am - 11:00 pm