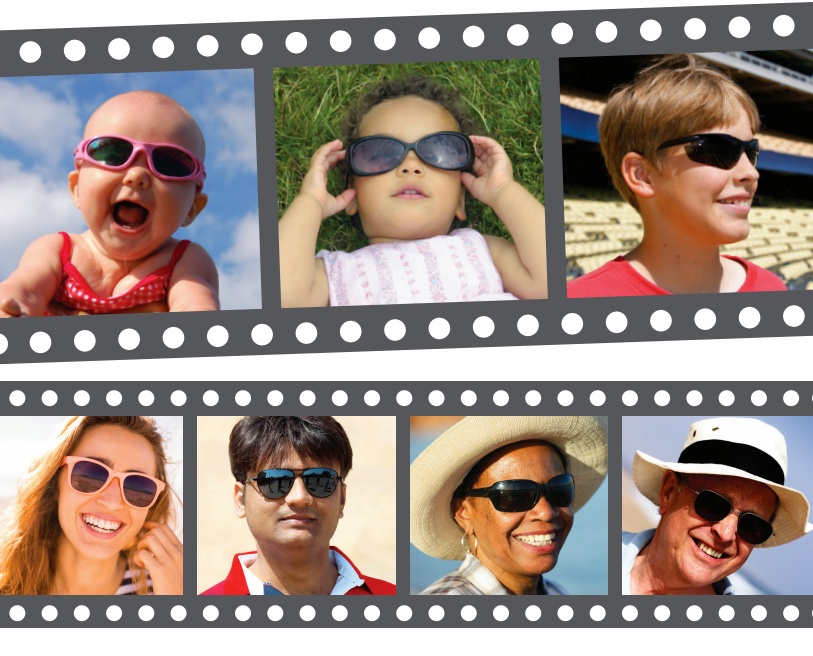 Get quality sunglasses or frames with authentic sun lenses personalized to your prescription and lifestyle in Dubai, U.A.E. They will keep you looking stylish as they protect you from the sun's rays.
Prolonged exposure to direct UV radiation can harm your eyes as well as your skin, so protect your eyes while you have fun in the sun! Rouhani Optical has the hottest brand names in sun wear. We also carry sun clips to accommodate your favorite frame. Whether you need sunglasses in prescription or non-prescription, create your individual look from almost any frame. We offer the best there is in sunglasses with brands like: Carrera, CAT, Diesel, Guess, Le Club, Oakley, Oxydo, Persol, Police, RayBan, Roberto Cavelli, and more.
Sun Lenses
You have found the perfect frame. Now discover the best vision experience under the sun. Explore a range of prescription sun lenses made for your lifestyle.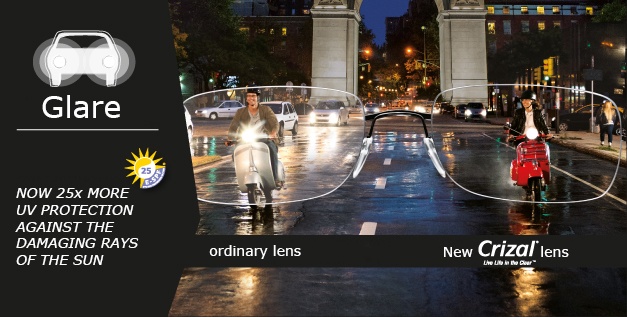 Anti-reflective Lenses
Help reduce glare during night driving, help protect eyes from harmful UV rays and reduce eyestrain from computer use. Also, they help you look great because people will see your eyes and not their reflection.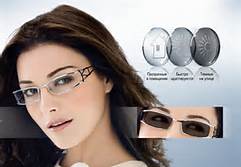 Photochromic Lenses

These lenses are activated by the sun, and they adapt to changing light conditions. If you are someone who likes to go from outdoors to inside and back a lot, you will want to consider this kind of lens.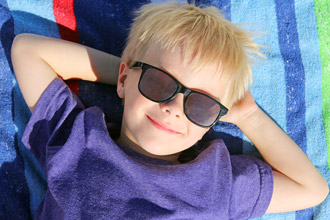 Children Sunglasses
Children tend to spend more time outdoors than most adults, some experts say nearly half of a person's lifetime exposure to ultraviolet radiation can take place by age 18. Also, children are more susceptible to damage to the light-sensitive retina at the back of the eye from UV rays and nearly all high-energy blue light reaches the retinas of children and adults alike. As such it is very important for all children, even infants, to wear UV blocking sunglasses anytime they are outdoors in daylight hours. This is true even on cloudy and overcast days, because most UV rays (which are invisible) can penetrate cloud cover.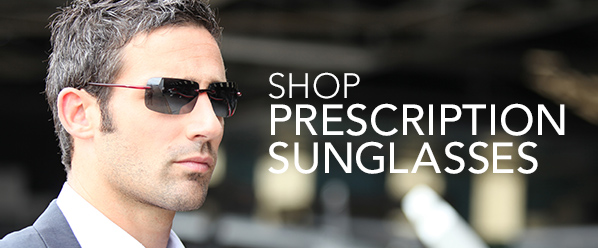 Prescription Sun lenses
Find yourself squinting in the sun, but don't want to endure the blur of going without your eyeglasses? Prescription sunglasses to the rescue!

Prescription sunglasses are available in all lens materials, including high-index, polycarbonate, regular (CR-39) plastic, and glass.
If you have a vision problem that requires corrective prescription eyewear, you have several choices when it comes to sunglasses. Prescription sunglasses are available for virtually any lens prescription, including bifocal and progressive lens options if you are presbyopic and need lenses to help you see clearly outdoors.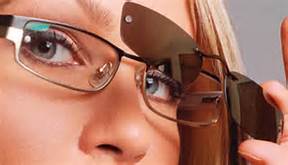 Clip-On Sunglasses
clip-on sunglasses can be conveniently stored in your vehicle for those bright, sunny days when you need a darker driving lens, and can easily be fixed over your prescription lenses.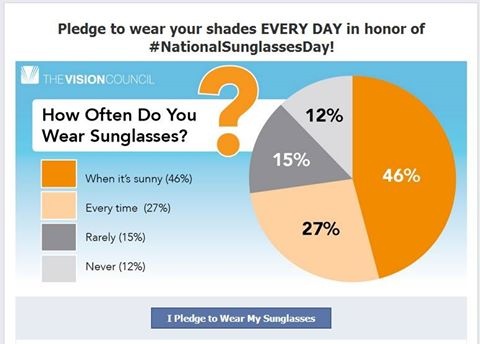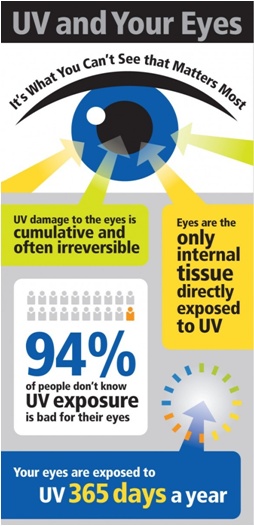 Polarized Lenses
While UV protection is the key for safety in the sun, polarization is the key for comfort. Cutting down on glare from many angles means no more squinting. Polarized lenses filter the glare that reflects from horizontal surfaces, making your eyes more comfortable when you are driving, out on the water or playing sports.

Follow these tips to protect your eyes from the sun all year long:
Sun damage to eyes can occur anytime during the year, not just in the summertime, so be sure to wear UV-blocking sunglasses and broad-brimmed hats whenever you're outside.

The sun's rays can pass through haze and thin clouds, so always use protection for your eyes.

Never look directly at the sun. Looking directly at the sun at any time, including during an eclipse, can lead to solar retinopathy, which is damage to the eye's retina from solar radiation.

Do not forget the kids and older family members: everyone is at risk, including children and senior citizens. Protect their eyes with hats and sunglasses.